What is AIM-TRU?
AIM-TRU is a model for professional development that gives teachers the opportunity to understand high-quality instructional resources and their use through video cases. Each professional development session focuses on a Formative Assessment Lesson (FAL) with an associated video case of its use in a classroom. The sessions are carefully crafted to deepen teacher understanding of these lessons, how they support students in understanding big mathematical pictures, and how they align with a framework for powerful mathematics teaching, the Teaching for Robust Understanding (TRU) Framework. The video at the center of the session is not intended as an exemplar. Rather it is an object of study that makes it possible to develop collective knowledge about how to use FALs effectively in different contexts. Of particular interest are emerging understandings about how students understand specific mathematical ideas and teaching moves that can support student thinking in these areas.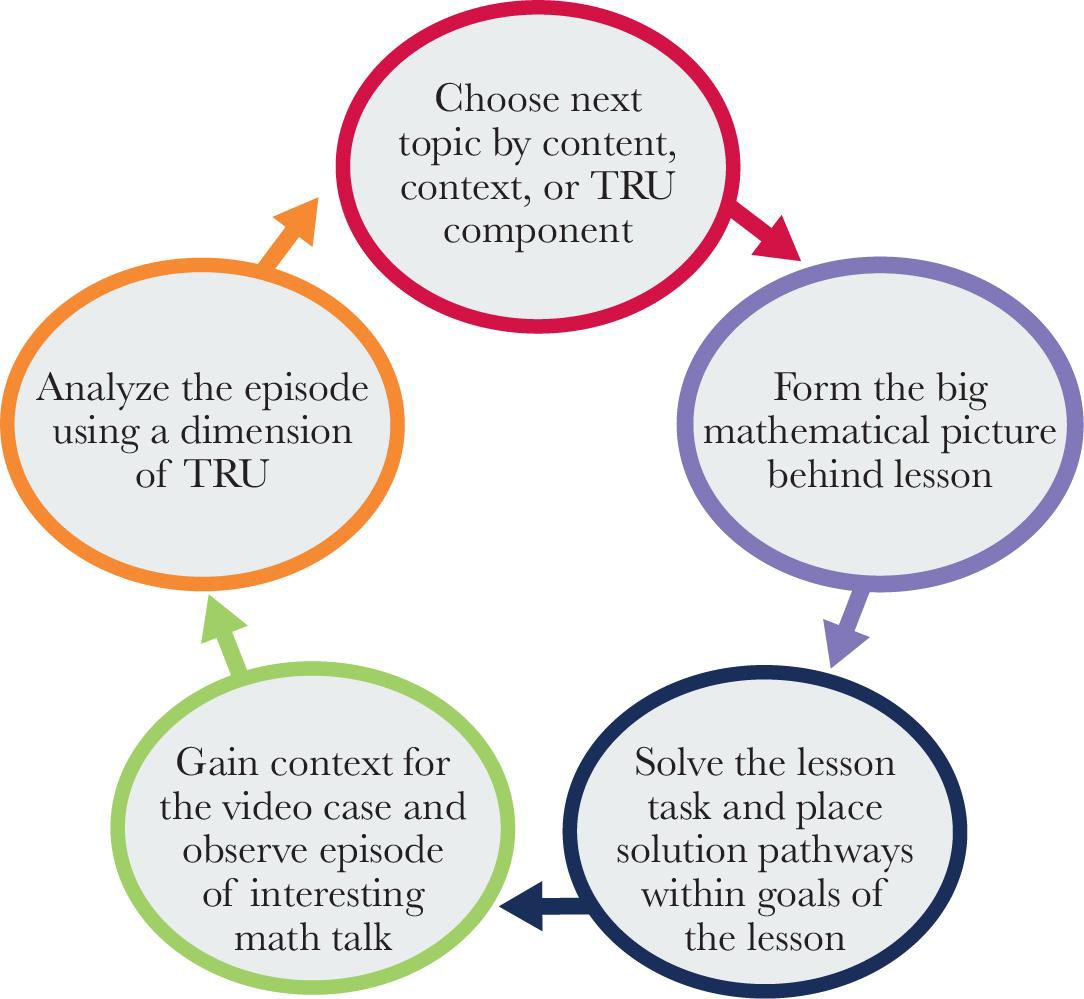 Image: The AIM-TRU cycle

A community of teachers discussing a video case of mathematics teaching
Why use AIM-TRU?
AIM-TRU is a powerful model of professional development because it offers teachers repeated opportunities to engage deeply with FALs and the pedagogy needed to teach them well. FALs (also called Classroom Challenges) are free lessons available online from the Math Assessment Resource Service. There are 100 lessons in all, covering topics in grades 6-12. FALs are designed to help teachers assess what their students have learned about important math concepts and problem-solving skills. The entire collection of FALs can be found here. Each lesson attempts to integrate formative assessment into everyday teaching. FALs that focus on math concepts, for example, are intended to be used about 2/3 of the way through a unit addressing that concept, or to review topics previously covered. A complete guide for teachers and administrators can be found here.
FALs are intended to be used alongside existing curriculum as a diagnostic and studies have found statistically significant learning effects. In a study of the FALs' implementation in the state of Kentucky, in spite of a myriad of methods that teachers chose to implement the FALs, their use was responsible for an additional 4.6 months of growth over the course of the year (Herman et al, 2015).
Where to use AIM-TRU?
The AIM-TRU model can be used in a variety of contexts. Our video cases and resources are helpful in continuous professional development settings with mathematics teachers, in department professional learning communities, or with pre-service teachers in mathematics methods courses. Typically, each AIM-TRU session takes about 2-2.5 hours to complete, but each activity that composes the cycle can be done in 45 minutes, so the model can be partitioned to adapt to various settings and needs.
How to use AIM-TRU?
You can visit our Resources Page to find everything you need to use AIM-TRU in your context. Our provided resources include our library of video cases, within which you will find the video itself, a link to the associated FAL, information about the mathematical context, supplementary information about the school and lesson, a transcript of the video, and remote versions of lesson resources (if available). These materials are all adaptable to fit your needs.
We have also created facilitation guides, slide decks, and orientation materials for teachers or teacher educators who would like to investigate the video cases for professional development or in teacher education courses. We encourage users to familiarize themselves with the materials and adapt the model to fit within their learning goals and circumstances.
How to contact us?
You can email us anytime at AIMTRUinfo@gmail.com. Please feel free to contact our team with any questions you have about AIM-TRU or how you might use it in your setting. If you are interested in contributing to the library of video cases, let us know! We are also happy to share any information about our research on AIM-TRU.
Acknowledgements
These materials have been created by an NSF-funded research-practice partnership that includes MƒA, the New York State Master Teacher Program, Montclair State University, DePaul University, and the State University of New York, Buffalo State.